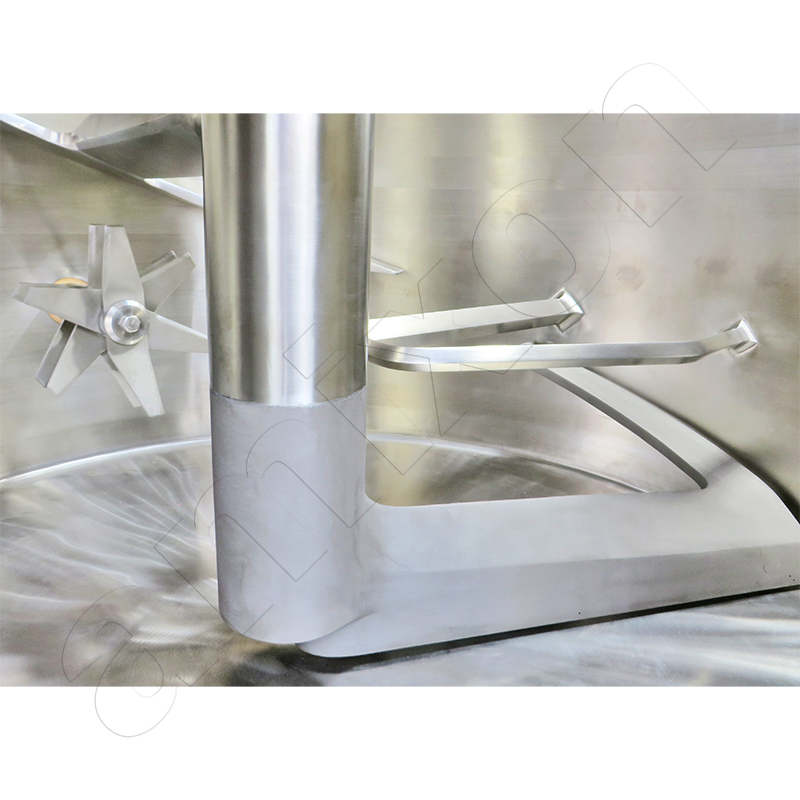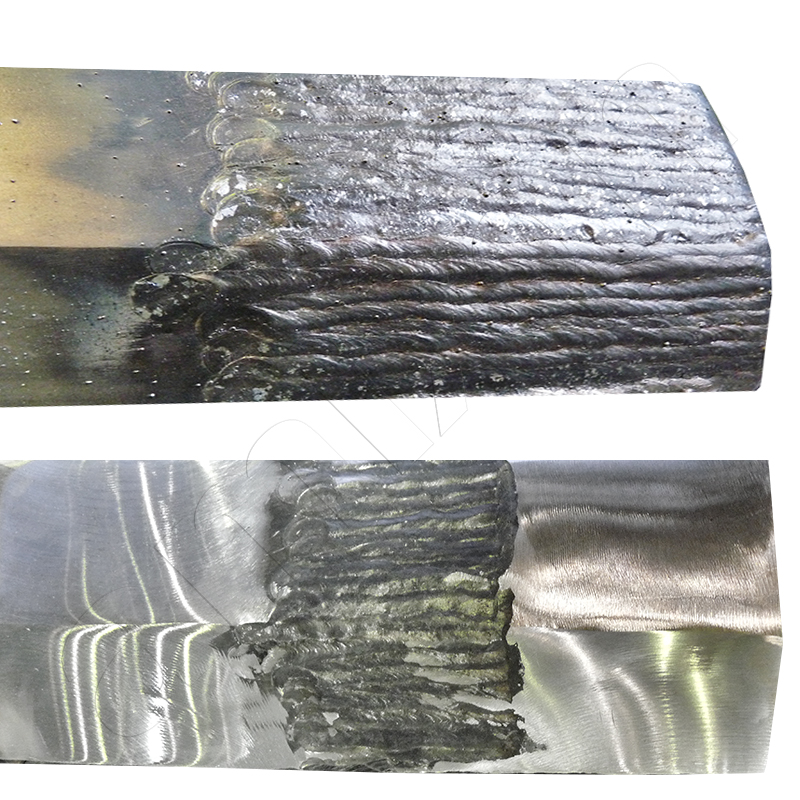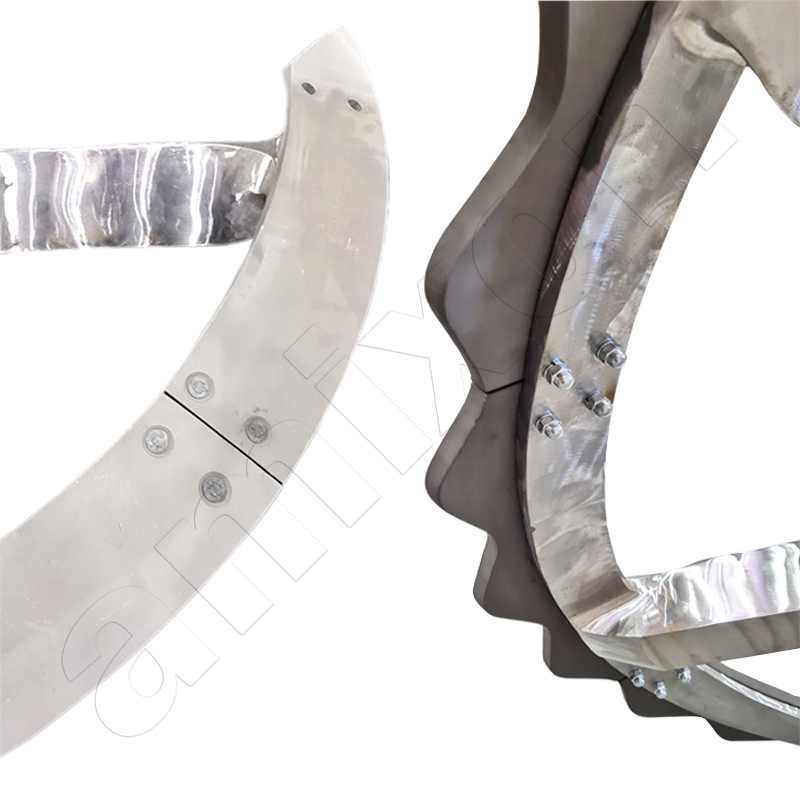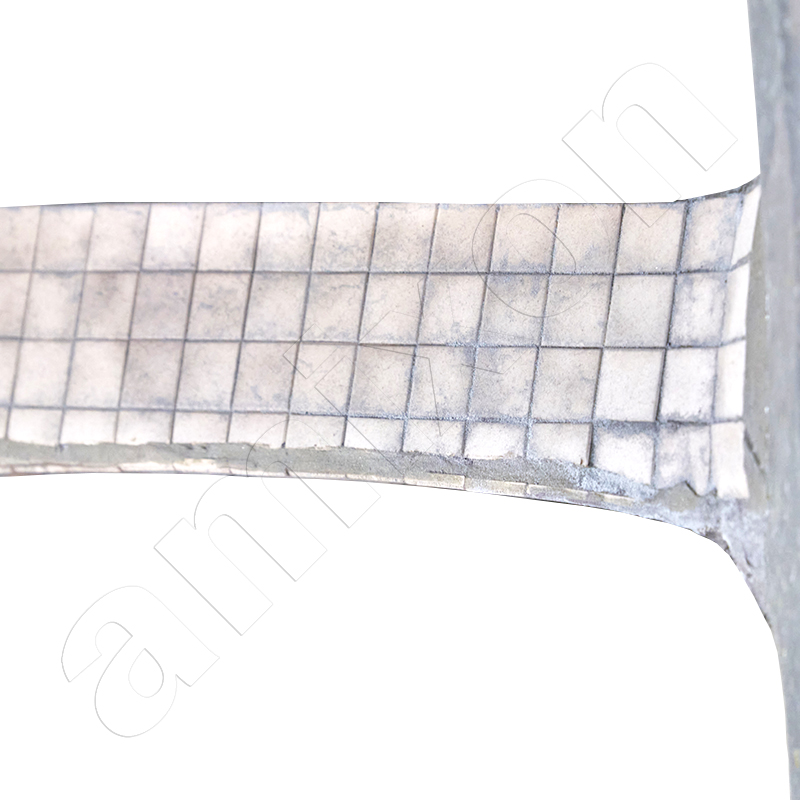 amixon® powder mixer with wear protection
Wherever there is relative movement, solid particles rub against each other and with each other on the contact surfaces of the mixer. Precision mixers for powdery goods are therefore always exposed to wear from the particles.
Wear is always unwanted and sometimes the mixture is devalued if it is contaminated with abrasion. If a mixing tool rotates particularly fast, then wear increases almost with the square of the relative speed. Slow rotating amixon® mixers are advantageous in this respect when mixing goods are abrasive!
If, for example, baking improvers, baby food, instant drinks, instant food products or spices are mixed in the mixer, the amixon® mixer can work for decades without any visible wear.
If the mixed goods are of organic origin but contain large amounts of abrasive components such as minerals, granulated sugar or salt, then we recommend using higher-quality stainless steel materials. In addition, the mixing tools should be protected at the points most exposed to wear.
The wear situation is completely different when the mixed materials are of inorganic origin, for example
minerals,
ceramic masses,
insulation materials,
Goods to be processed after a calcination process,
ceramic paints,
building materials
nanoceramic materials,
3-D metal printing compounds,
electrode materials, battery materials,
molding sands,
….
then the mix particles can be particularly hard and extremely abrasive.
Wear and tear increases
if the mix has high bulk densities,
if the materials to be mixed flow poorly, then the mixing tool must apply increased drive torques because they are particularly fine, for example, or because they may be wetted with a liquid
when the mixing tools rotate rapidly
if the mixing process takes a long time
when there are large batches in the mixer
when large mass flows are mixed in the continuous mixer
if the distribution of liquid additives in the powder is difficult
when agglomerates are deagglomerated
when atmospheric mixed drying or vacuum mixed drying takes a longer period of time
when build-up granulation takes place
…..
Question from a customer: Is an amixon® mixer also suitable for highly abrasive mixes? ….. and also for mixes with high bulk density?
Answer from amixon®: Yes, many amixon® mixers work in the rough operating practice of the hard metal industry and are particularly appreciated there,
when the highest mixing quality is required
if the mixing process is to take place at low peripheral speeds
if the mixing time should be short
if the batches are large; for example 5 m³ or 10 m³ or 20 m³ and more,
when bulk densities are particularly high; for example 3 kg/dm³ or even 5 or 6 kg/dm³
if the mix is damp or wet
if the mixes are difficult to mix
Question from a customer: What is the reason that amixon® mixers are well suited despite the wear problems you mentioned?
Answer from amixon®: Four factors are decisive here: amixon® mixers deliver ideal mixing qualities that cannot be improved in practice.
The main mixing tools of the amixon® machines work at low peripheral speeds. Sometimes the peripheral speed of the mixing tools is less than one meter per second. Then the relative speeds between the mixing tool and the material to be mixed are also low. This reduces wear and saves energy.
amixon® mixers work particularly efficiently and guarantee short mixing times.
The mixing tools of the amixon® mixers are smooth and have a simple shape. In this respect, a wide variety of "wear protection armor" can be easily applied.
The main mixing tools of the amixon® mixers are only driven and supported at the top. The shaft seals are also only at the top – above the mixed material. In this respect, the seal is less stressed and permanently gas-tight.
Many of our customers praise the fact that they are able to carry out wear-resistant "weld armouring" on the amixon® mixer themselves. This is easy to organize and particularly inexpensive. Large inspection doors facilitate repair work without having to dismantle mixing tools.
Experienced amixon® service staff will be happy to visit you - almost - anywhere in the world. On request, amixon® will be happy to arrange training and upgrade your repair staff (f/m/d).
Question from a customer: How is an amixon® mixer protected from wear and tear?
Answer from amixon®: Our experience from four decades shows that six different solutions ensure good protection against wear. The components that are subject to wear can optionally be protected as follows:
The mixer/reactor consists of a particularly wear-resistant base material.
The components subject to wear are hard-faced by hard alloy hardfacing. Ultra-hard tungsten or chromium carbides are embedded in the weld metal.
Replaceable wear protection elements are screwed into the mixer/reactor. These are high-strength ceramic materials that cannot be welded.
The mixing tools are armored particularly hard. An aluminum oxide ceramic is applied in the form of plasma spraying or in the form of high-temperature flame spraying.
The mixing tool and optionally also the mixing chamber are equipped with Widia hard metal plates (soldered or glued).
The mixing tool and optionally also the mixing chamber are equipped (glued) with high-performance ceramic plates.
Question from a customer: What do you suggest if mixed goods such as battery masses must absolutely not be contaminated with metallic abrasion during mixing?
Answer from amixon®: Here we suggest that the mixing space and mixing tools are coated with a suitable oxide ceramic. This works very well in practice. 400 liter mixers are available for tests in the amixon® technical center. All parts that come into contact with the product are coated with a high-performance oxide ceramic. Metallic abrasion is excluded during mixing/reacting/drying.
A ceramic-coated mixer-dryer synthesis reactor has been set up in the amixon® technical center and will be available to our customers for product development and pilot testing from winter 2022.
The test apparatus has a usable volume of 100 liters. The device is completely ceramic coated. In this respect, any metallic contact with the mix is prevented. But the special feature lies in the construction details. The pressure in the mixer can vary
of 6 bar (pressure)
up to 10 mbar (vacuum)
The mixing room can be heated up to 350 °C
It is interesting that this test apparatus is gas-tight despite the high temperatures (up to 350°C). It is equally gas-tight in both vacuum and overpressure.
© Copyright by amixon GmbH