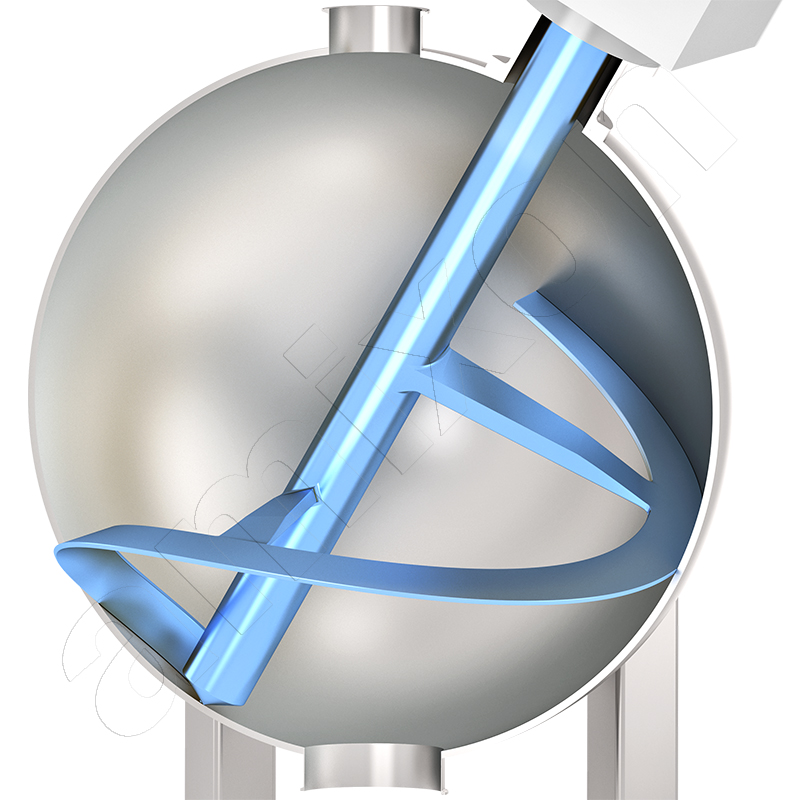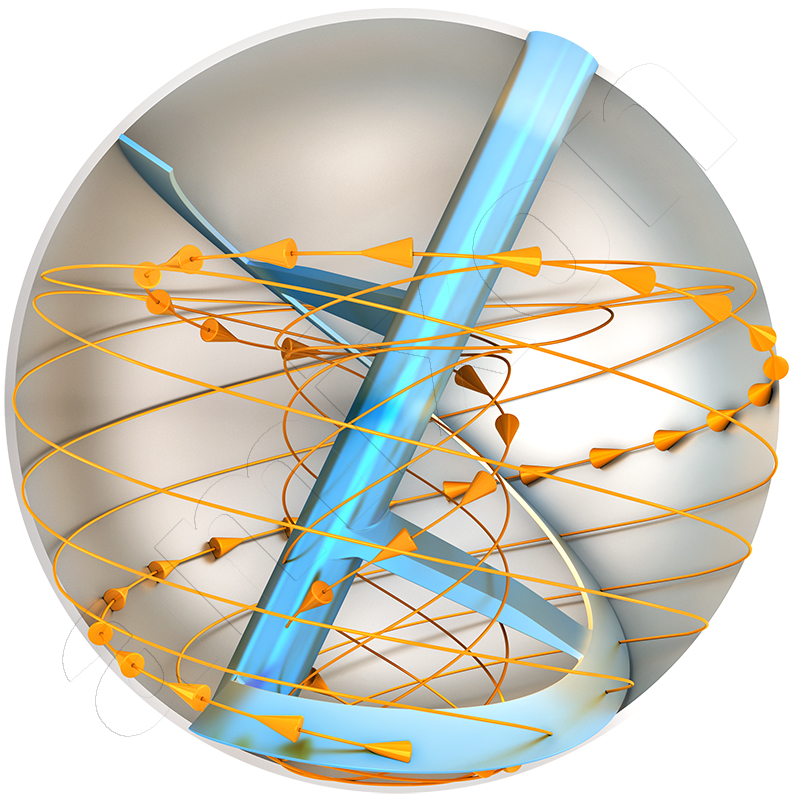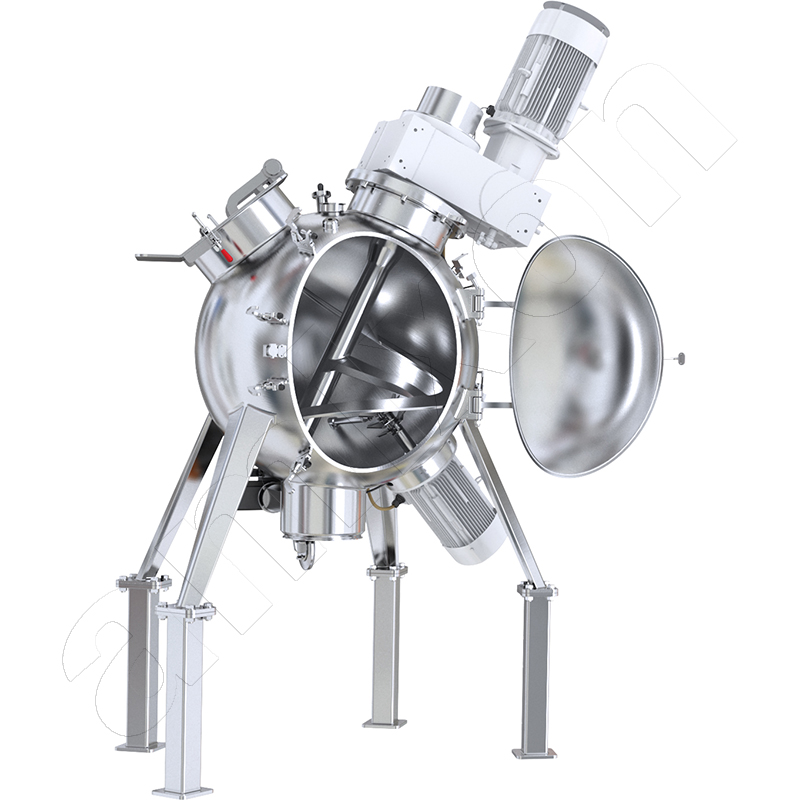 Vertical mixer amixon® powder mixer with vertical or inclined mixer axis
Dynamic powder mixers are operated with rotating mixing tools. These have either a vertical or a horizontal axis of rotation. Occasionally, there are also powder mixers where the axis of rotation is inclined. In this blog post, we will go over the different designs that are available on the market. The outstanding features and characteristics are reviewed. This allows individual advantages and disadvantages to be derived, which are important for operational practice.
amixon® is a recognized synonym for a wide variety of vertical mixer designs.
The classic vertical mixer has a cylindrical mixing chamber and a centrally mounted mixing shaft. There are several thousand units of this precision mixer. It is particularly compact, cost-effective and a real all-rounder. The versatility and robustness of this mixer design is undisputed.
The category of vertical mixers also includes mixers with a mixing shaft that deviates up to 30° from the perpendicular axis. For example, there are amixon® mixers that are installed with a deviation of 13°, 15°, 20° or even 25° from the perpendicular axis. This can be useful, for example, if the cylindrical mixer is operated with low filling levels. In this case, both the dead space free shut-off valve and the cutting rotor are located at the lowest point of the mixing chamber. This means that both very small batches as well as large batches can be mixed using one and the same mixer.
In terms of variable filling levels, conical mixers are unsurpassed.
In terms of variable filling levels, conical mixers are unsurpassed. The amixon® conical mixer, however, offers by far the greatest degree of flexibility in terms of filling. It can be operated at extremely low filling levels. In this case, the cutting rotor is positioned very low. The topic of "Flexible adaptation to different batch sizes" is covered in a separate blog post.
Twin-shaft mixers are known for their slowly rotating mixing tools and for achieving the highest mixing quality in the shortest mixing time.
The amixon® twin-shaft mixer is the top performer among vertical mixers: It stands out when the particles of the compound have sensitive structures:
porous agglomerates from the fluid bed agglomerator, which are particularly sensitive to pressure and shear
agglomerated powder or coarse particles from freeze drying
extruded or rolled cereals that break easily (e.g. oatmeal)
coarse mushrooms, pieces of fruit or vegetables; air-dried or freeze-dried
When the particles of the mixture are coated and sensitive to pressure and shear
Special case: The components of a recipe are extremely heterogeneous
The particles have different bulk densities
or/ and particle sizes and have different flow properties
The particles of the mixture react sensitively to friction and pressure
Their proportional composition varies greatly
This is the case, for example, when agglomerated moist materials should be mixed with a minimal amount of silicic acid (anti-caking agent).
Another special case: "Mixing needle-shaped ultra-fine particles in the amixon® twin-shaft mixer". When nanoscale bulk particles have needle-like structures, the particles puff up, similar to cotton wool. The spatial orientation of the needle-shaped particles is completely random. The bulk density of such a structure is low and the porosity is particularly high. Wetting or mixing with other components is very easy. If the same compound would be mixed with a single-shaft mixer, the needle-shaped particles would align themselves largely in the same direction and form so-called aggregates. Such aggregates cannot be wetted and neither can they be homogeneously distributed in other powders.
Machine design, function and sizes are described in detail in another blog article.
Powder mixer with hollow sphere mixing chamber
Single-shaft mixers from amixon®, basically have rotationally symmetrical mixing chambers. These can be cylindrical, conical or spherical. The mixing chambers can even be designed as paraboloids or hyperboloids.
Among vertical mixers, the spherical mixer with vertical or inclined mixing shaft is worth mentioning. This mixer design has been around for a long time. They could establish themselves on the market for special cases. A prominent feature is the fact that the spherical shape is very stable against internal and external pressure. For this reason, they are used in particular as vacuum mix dryers. A disadvantage is the low specific heat transfer surface. amixon® has dedicated a separate blog entry to this topic.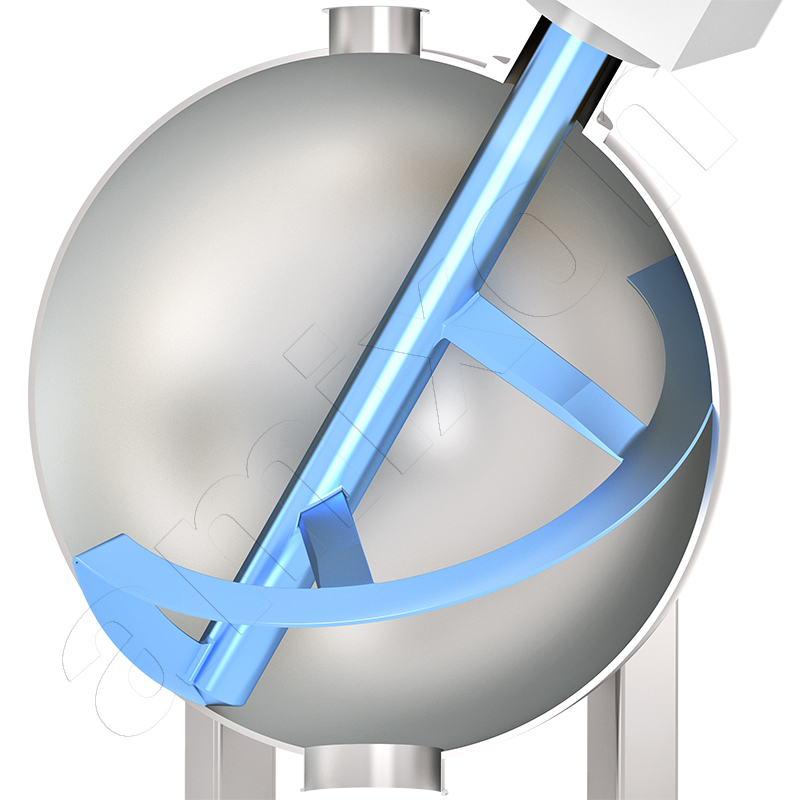 Desagglomerators and filling levels
In many cases, lumps in the powder have to be dissolved during the mixing process. High-speed rotating choppers are used for this purpose. They are installed on the side of the mixing chamber and driven by a separate motor. They should only be operated for as long as required to dissolve all agglomerates; never longer. They can change the particle structure and particle size distribution adversely. High-speed rotating choppers (also called knife heads, mixing accelerators, cutting rotors, fluidisers or shear dispersers) are also valuable when liquid materials need to be homogeneously dispersed into powder. More information can be found in this blog post.
Cutting rotors can speed up mixing processes enormously and they can help to produce an ideal mixing quality. For many users, a question arises: "What is the minimum filling level required for a high-speed deagglomeration tool to have a sufficiently good effect?"
With regard to the spherical mixer, one particular aspect is worth mentioning. Marked in red, the cutting rotor shaft is installed in the same axis as the main mixer shaft. The central area of the main mixer, which has a weak flow, is compensated for by the swirling effect of the chopper. If the chopper would be installed as far as possible from the centre of the main mixing device, it would work more efficiently.
In this context, it becomes clear that a conical mixer offers the greatest flexibility with regard to mixing batches of different sizes. Ultimately, a cost-benefit comparison decides which mixing system the operator wants to install in his plant. The flexibility of using a conical mixer is described in a separate blog post.
Tests in the amixon® technical center
Please visit us in Paderborn. We demonstrate the mixing process with a wide variety of vertical mixers and assure you of excellent mixing results in advance. In addition to test mixers with a useful capacity of 400 liters, large mixers with a useful capacity of up to 3 m³ are also available in the amixon® test center - to back up extrapolations. We cordially invite you and assure you a high knowledge gain!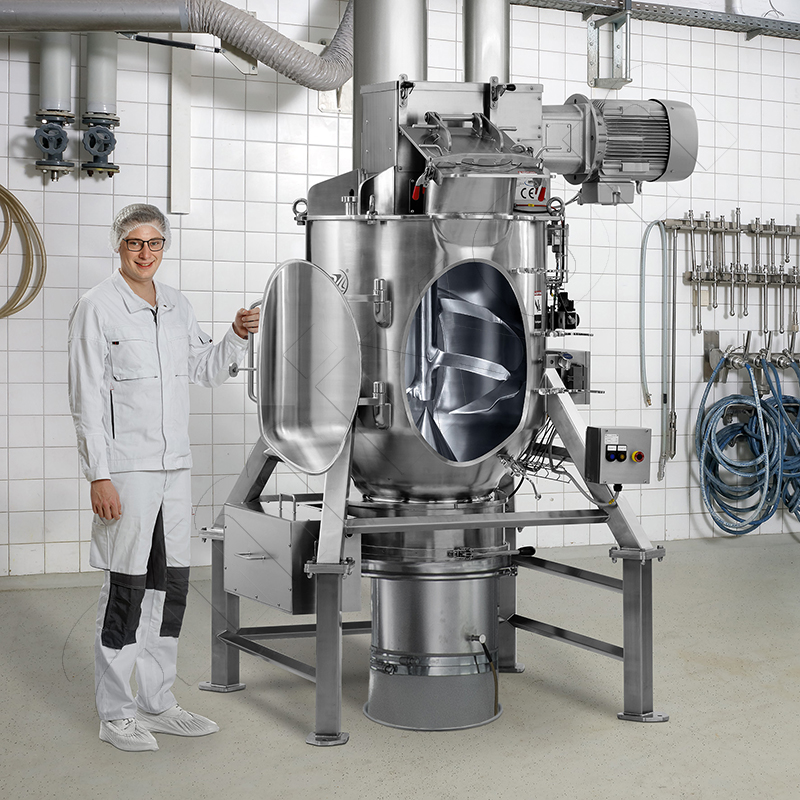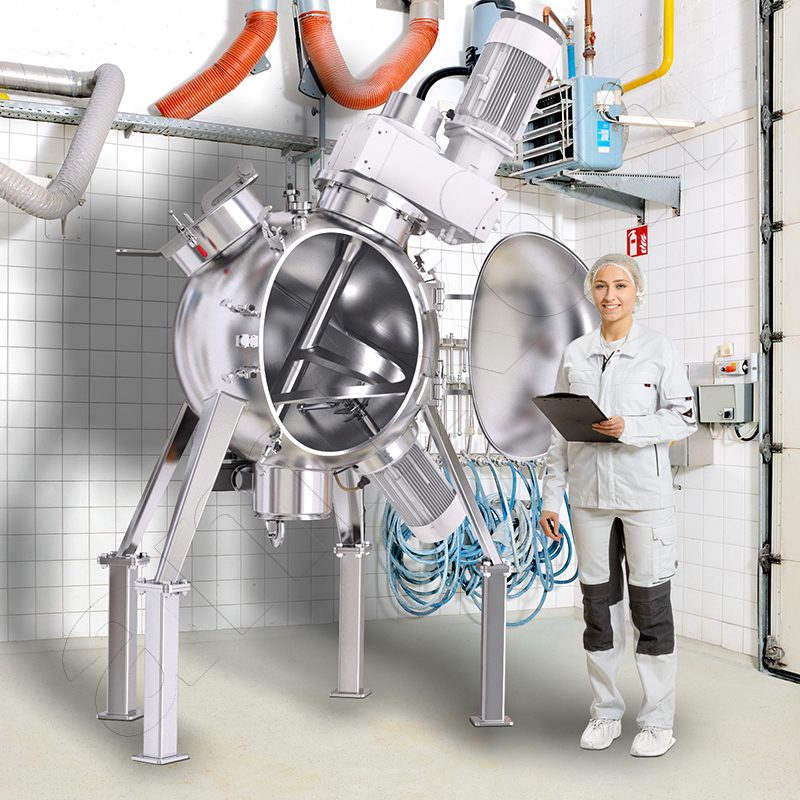 © Copyright by amixon GmbH