amixon® twin-shaft mixer for baking agents, decors, fat coatings and snack products
amixon® twin-shaft mixers for baking agents, decors, fat coatings and snack products have a wide range of applications.
The raw materials used are powdery, dusty and coarse-grained, sensitive. In addition, there are fats, shortenings, baking extracts, lecithins, oils and liquid flavorings, which are quickly and homogeneously and homogeneously distributed in the powder mixture. The end product remains cool thanks to minimal energy input remains cool. Depending on the mode of operation of the amixon® mixer, the end product is a bulk material, a doughy mass or "moist flaky". amixon® can also coat crystalline goods such as ground sugar, salts or trace elements coated with fat. The degree of coating can be up to 100%. The fats are injectedinto the mixing chamber and distributed by HighShearBlades. The mixing and wetting process can be batchwise or continuous. If desired the product can be cryogenically cooled with liquid nitrogen or CO2. The end product is homogeneous, uniformly granulated, dust-free, easy to dose and convenient to fill.
Three-dimensional flow produces ideal mixing quality
The mode of operation is from the helical mixing tools. They convey the goods in the upwards in the periphery and downwards in the center of the mixing chamber. The result is an intensive cross-flow of the upward and downward flowing product. This type of flow generation is universally applicable for almost all product consistencies product consistencies: dry, moist or wet powders and even pastes and dough masses. A three-dimensional random distribution takes place. This is independent of the degree of filling, the frequency of rotation and any differing properties such as particle size, density, cohesion, adhesion or viscosity. viscosity. In the case of particularly fragile materials or dust-explosive conditions, the rotational frequency can be the mixer rotation frequency can be reduced: The mixing process takes place without any loss of quality even with slow rotation of the mixing tools.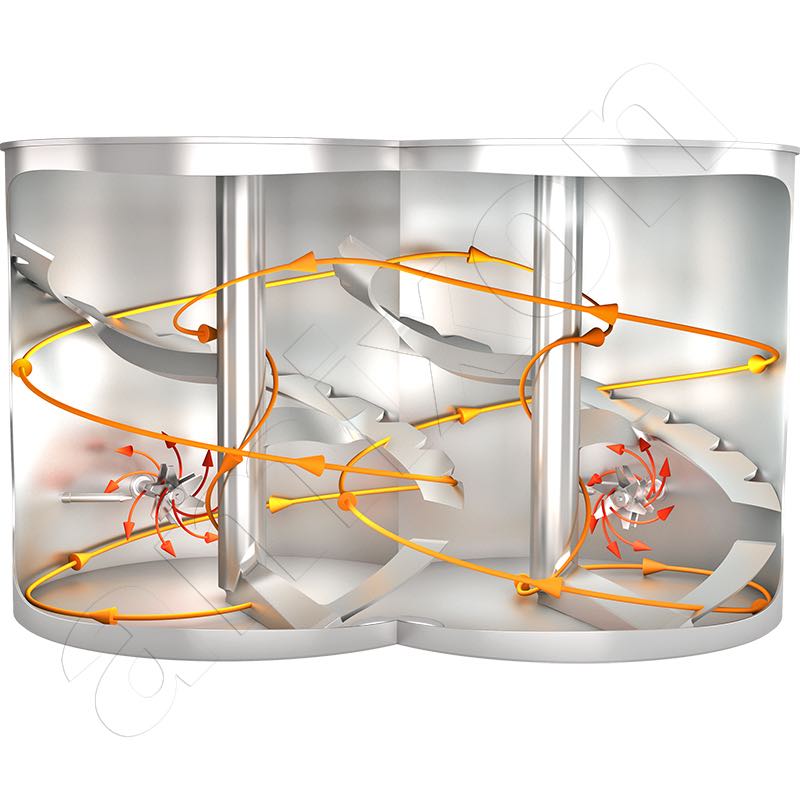 © Copyright by amixon GmbH