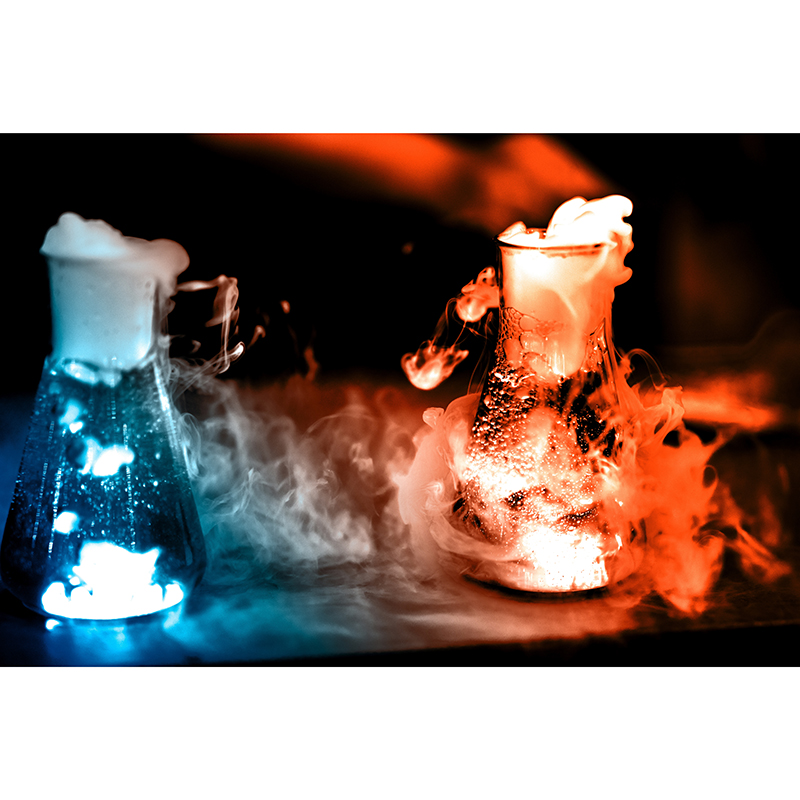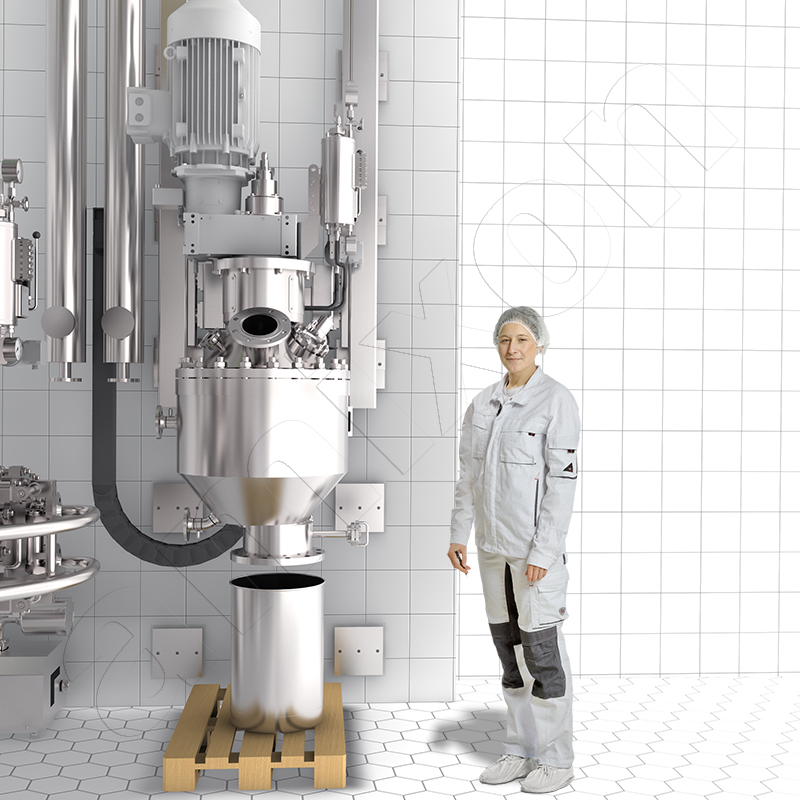 High-temperature reactors in the amixon® pilot plant
The new test center was newly built for our customers. This is where we carry out demanding vacuum mix drying and synthesis reactions. The pressure level in the reactor can be up to 25 bar. The temperature of the mixing goods can be up to 350°C.
If overpressure or vacuum is required in the process chamber, then gas-tight shaft seals and closure fittings are needed. Sometimes there are even further requirements:
free of dead space and hygienically designed
also suitable for abrasive bulk materials
also suitable for chemically aggressive goods
operable up to 350°C
ceramic coatings protect the mixing goods
amixon® offers reliable solutions for precisely these requirements. We will be happy to present these to you in the technical center. Our demonstrations are even more conclusive when we can process your original products in the amixon® reactor.
Question from a customer: What are the special features of the test center?
Answer from amixon®: In this test center, we improve classic solid chemistry processes. Target operations are synthesis reactions, diffusion processes and vacuum processes. The physical states of the reactants used can be gaseous, liquid or powder. The dispersions produced can be dry, moist, wet or suspended.
The performance data of our pilot plants are as follows
Vacuum less than 10 mbar absolute
maximum batch size = 200 liters; this is the maximum usable volume. The gross volume is 300 liters.
Pressure up to 25 bar
Temperatures from -70°C to +350°C are possible at varying pressures
particularly hygienic design
excellent mixing efficiency; the mixing process can

take place particularly gently or
aggressive-deagglomerating

Excellent efficiency in heat transfer
the goods and solvents can be highly corrosive
they can be explosive or even dust explosive
they can be hazardous
they can be abrasive
they can have high bulk densities
they may exhibit plastic consistencies during reaction or drying
Materials Alloy 59 or
1.4462 or
1.4404 or
optionally ceramic coated
Note and questions from a customer: Sometimes mixing goods are particularly abrasive - but sensitive to metallic contamination.
What is your recommendation? Are there mixing reactors that have a wear-resistant lining and still allow high process temperatures?
Answer from amixon®: Yes, such mixer-synthesis reactors are also available in the amixon® pilot plant. All parts in contact with the product are lined with high-performance ceramics. Metallic abrasion during mixing / reacting / drying is then excluded.

A new feature is the universally applicable mixer-reactor, which enables a process temperature of up to 350°C and at the same time is technically tight. The mixer-reactor is both vacuum and pressure tight. The absolute pressure of one of our reactors, for example, can be adjusted from approx. 10 mbar to 6 bar.
Question from a customer: How should one imagine such a trial in the pilot plant?
After all, every customer has their own specific requirements. How many test mixers do you have to keep on hand in order to still obtain meaningful results?
Answer from amixon®: This question is always difficult to answer. Each of our customers focuses on their specific market niche. This results in its own machine specifications. Finding these exactly in a single amixon® demonstration machine is rarely possible.
That is why amixon has more than 30 different test machines available. In most cases, an ideal solution can be put together for the customer-specific process task. Tests with the customer's original products are used for verification. If required, these can also be carried out in sections in several pilot plants.
The sizes of the test machines range from 10 liters to 3000 liters. This provides excellent conditions for upscaling calculations. The amixon® motto is: "We love surprises - but only in the pilot plant, please, and never during the commissioning of a new mixer reactor." High reliability from the test to the operational handover saves time, money and resources.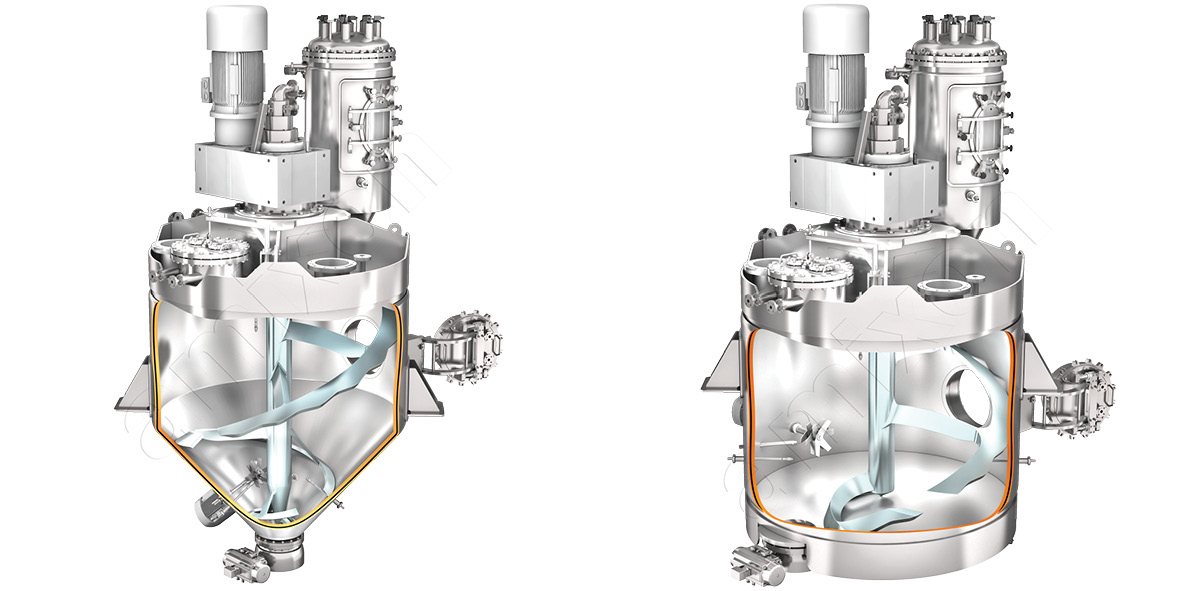 amixon® synthesis reactors / vacuum mix dryers can process almost all types of dry, wet and liquid products.
Why does amixon® offer two types of synthesis reactors?
Answer from amixon®: Both systems are comparable in performance and deliver ideal mixing qualities that cannot be further improved in practice. The flat bottom system requires less vertical installation space. The simpler design results in lower manufacturing costs.
The conical system is preferred when the filling levels in the reactor vary greatly. For example, when a synthesis or drying process causes extreme density differences or when suspensions are evaporated. A conical process apparatus allows highly varying filling degrees. If the end product is pourable and free-flowing, the conical device can empty itself almost completely.
Due to the design, the production of a flat bottom system is slightly more cost-effective. Some customers may want to enter the machine and go inside to inspect or clean it. In this case, cylindrical apparatus with a flat bottom are more comfortable.
Some powdered active ingredients are extremely blunt, bridge-forming and flow poorly. They even adhere to vertical, smooth walls. Such products must be actively cleared out of the mixing chamber with mixing tools. In such cases, the cylindrical mixing chamber with a flat bottom is preferable. It has a smaller surface area.
The amixon® team appreciates your interest and cordially invites you to our test center. Many questions that arise in the development of new processes and products can only be answered in practical trials. We assure you good results and a high gain of knowledge already in advance.
Homogenization of large batches (dry, wet, suspended). High-tech products that are processed into consumer goods ....
Many high-tech products can only be produced in small batches of 200 or 400 liters. This is the case, for example, in the production of ceramic paints, in the manufacture of effect pigments or also in the production of advanced ceramics (electroceramics, structural ceramics and bioceramics).
High-tech consumer goods are produced in large series (cars, cell phones, PCs, screens, semiconductors, batteries). For this purpose, the powdered high-tech products are required as homogeneous bulk batches. Each production series has an assigned series ID. This often refers to a homogeneous large batch that has been created from many small individual batches. In this respect, it is ensured that products with the same series ID have the same properties.
Homogeneous mixing of large batches is not trivial, especially when the granulometry of the high-tech products must not change. amixon® offers an interesting solution here. The Gyraton® mixer is able to mix ideally homogeneously but extremely gently at very low drive power. The rheological properties of the dry, moist or suspended powders do not matter.
© Copyright by amixon GmbH