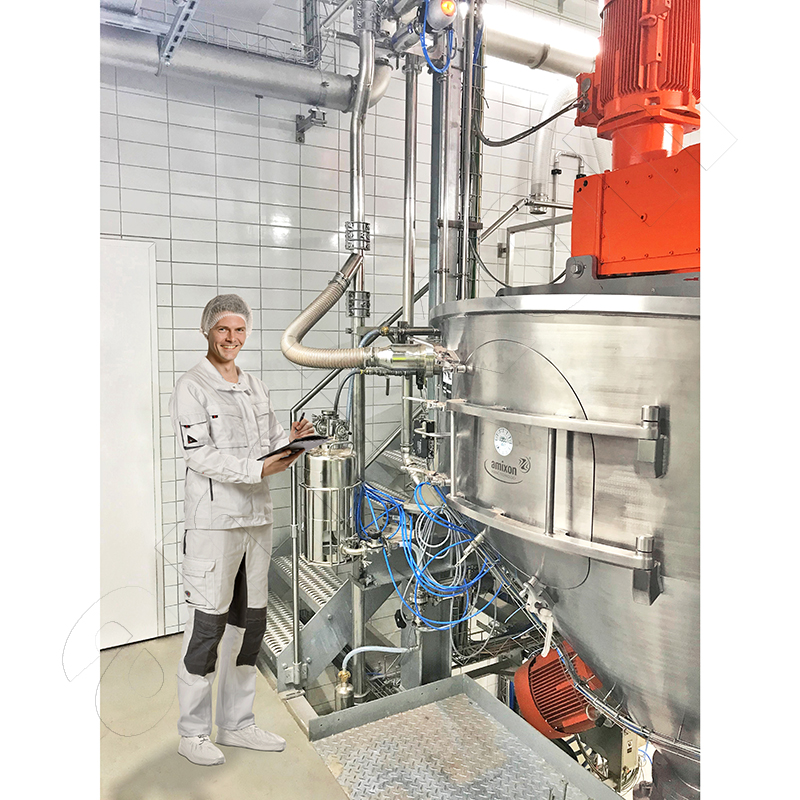 Mixers from amixon® for spice factories
Mixed spices are homogenized – refined with liquid aromas and ready processed for the manufacture of sausages, marinades, ketchup, pizza toppings, ready-made meals, frozen and tinned food.
The product spectrum of spice factories extends far beyond that of spices, spice mixtures and spice preparations. It actually concerns everything that the nutrient industry needs. This even includes powdered starter cultures for sausage production and stabilisers. In this respect, mixing machines must be universally usable and hygienically first-class in design. An amixon® mixer can homogenise gently and deagglomerate intensively with high energy input.
Spice mixtures are homogenised, refined with liquid flavours and finished - for the production of sausages, marinades, ketchup, pizza toppings, ready meals, frozen and canned foods. In the amixon® mixer, highly viscous liquid components such as oil, fat, lecithin, spice extract and syrup are distributed micro-fine in salt, dextrose or grain derivative. This is done in a deagglomerating manner, optionally with increased energy input. Dried vegetables - air-dried or freeze-dried - and visible spices are added last and "folded in" particularly gently. The end products are as specified: homogeneous, dust-free and free-flowing. Visually, the spice mixtures appear natural and appetisingly fresh.

amixon® conical mixers achieve ideal mixing qualities. This applies to almost all dry, moist and wet products. In addition, the degree of filling can vary from approx. 10 % to 100 %. One and the same mixer can homogenise gently, but also deagglomerate intensively with extremely high energy input. The mixers can empty to a high degree. Especially with the patented ComDisc® system, the degree of residual emptying is up to 99.99%.

amixon® mixers can be manufactured optionally as sterile apparatus in pressure-resistant and vacuum-resistant versions. Natural products contaminated with undesirable germs can be treated by steam sterilisation. In this way, the germ load can be significantly reduced.
New amixon® conical mixer is successfully commissioned and then handed over to production management.
Until now, the aforementioned mixing company had only operated precision mixers with horizontally mounted mixer shafts. In the course of the current plant expansion, it was decided to acquire the amixon® conical mixer shown above (mixing shaft is vertical) with 3.5 m³ useful capacity. For testing, amixon® was able to provide conical mixers with 400 litres and 2000 litres. It was immediately possible to replicate all the mixing results that had previously been achieved in the horizontal mixer. (Visual appearance, bulk density, colour intensity, trickling behaviour, granulometry, properties during filling, long-term behaviour in packaging, and other parameters.

Interestingly, the mixing operation with the new mixer can improve some product groups. This is especially true for complex compositions of substances in which many liquid additives are involved. No anti-caking agents are used. The trickling behaviour could be improved and it could be ensured that there is no measurable temperature increase even in summer.

The greatest advantage, however, is that the amixon® conical mixer can prepare the high concentrates and premixes in the same apparatus - with a correspondingly low filling level.
© Copyright by amixon GmbH