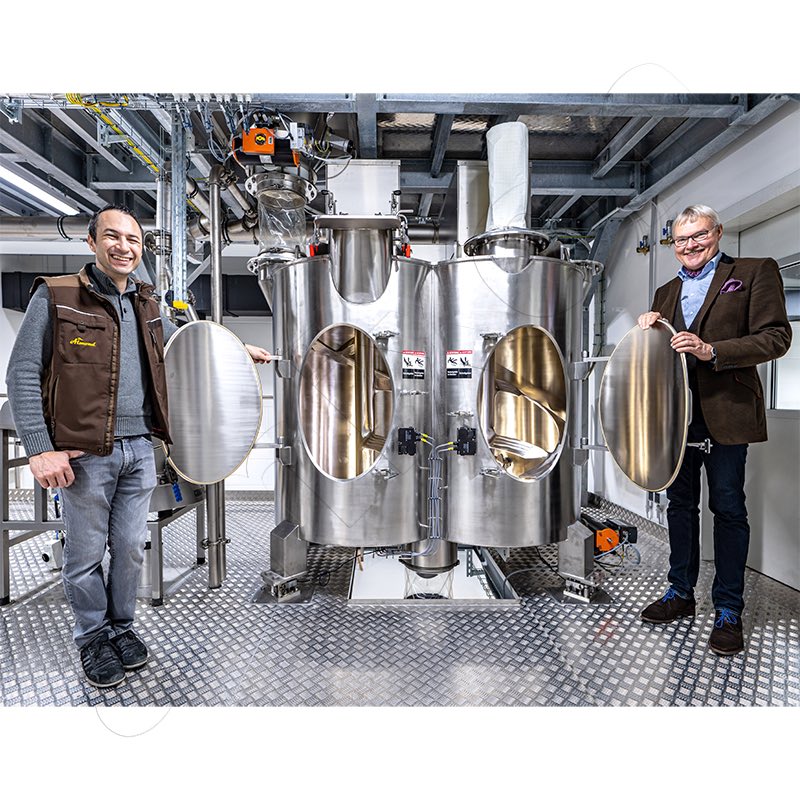 Interview with Dr. Samir Charrak
Healthy foods with no gluten or soy and very few carbohydrates
Dr Samir Charrak and his wife Monika, both managing partners of Charrak Nutrition GmbH based in Ramstein-Miesenbach and owners of the "Dr. Almond" brand (https://lowcarb-glutenfrei.com), have made it their goal, quote: "to develop healthy foodstuffs – without gluten, without soya and with very little carbohydrate – that taste so good that there is no reason for anyone to miss conventional products." An amixon® HM 2000 twin-shaft mixer is used at Charrak Nutrition for the manufacture of the extensive product range. We spoke to Dr Charrak.
The interview with Dr Charrak led Mrs. Lisa-Marie Siebert for amixon GmbH.
amixon GmbH: Dr Charrak, we would like to congratulate you on your newly built factory in the Ramstein-Miesenbach industrial estate. It seems to be spacious and is certainly designed for future growth. May we first ask you: is there a historical background to the topics of low-carbohydrate and gluten-free nutrients?
Dr Samir Charrak: More and more people are suffering from overweight, metabolic syndrome, insulin resistance (incipient type 2 diabetes), food intolerances and allergies. These health problems, also known as "civilization diseases", usually have a common cause: high-carbohydrate, highly processed and artificially modified foods that overwhelm our organism and promote excessive energy intake.
On the topic of carbohydrates: In particular, foods that are RICH in starch and sugar and at the same time LOW in dietary fibre and protein do not make us feel particularly full, so that "overeating" is facilitated. In addition, our physical activity is becoming less and less, which additionally leads to an imbalance between energy intake and energy consumption.
A diet low in carbohydrates, in particular low in sugar, is not a novel trend. On the contrary: in 1850, sugar consumption in Germany per year and per capita was about 6 kilograms. At the moment it is about 34 kilograms, almost 6 times as high. So it has to be said that a high-sugar diet is a dangerous trend that needs to be reversed.
Another issue – similar trend: Gluten hypersensitivity (also called "gluten sensitivity") is increasing because today's overbred wheat contains up to 10 times more gluten than it did about 50 years ago. The higher the gluten content, the better the dough can be processed industrially. Increased gluten intake in our diet is problematic because a lectin contained in gluten, gliadin, increases the permeability of the intestinal barrier, causing dietary proteins to enter the organism undigested and cause inflammatory reactions. A healthy body can tolerate this for a while in small amounts, but the higher the amount, the greater the risk of health problems.
Apart from the fact that wheat at that time contained much less gluten, bread was still prepared with a real sourdough. The gluten was thus pre-digested (fermented) and made more digestible. However, this type of dough preparation is very time-consuming and therefore difficult to implement in an industrial production that is optimised for cost-effectiveness and the price war.
amixon GmbH: What was your motivation together with your wife – who also holds a doctorate in chemistry – to found your company? Was there a scientific motivation behind it? Or was it personal experience? Are there any visions for your company that you might want to share today?
Dr Samir Charrak: Our motivation was initially purely personal, as we were struggling with the problems described above ourselves. As a chemist, our daily work in the laboratory during studies and doctorates involved quite a lot of movement. That changed abruptly when we started our first jobs in the private sector after completing our doctorates – from the laboratory to the office chair. We were both overweight and felt uncomfortable, almost a little sick.
A change in our eating habits was urgently needed. So, after extensive research, we decided at the beginning of 2013 to switch completely to a carbohydrate-reduced diet. Our meals were also very rich in protein and dietary fibre, which greatly facilitated weight loss. After just 6 months we had lost 20 kg together and felt absolutely fantastic.
The only downside: Of course, it wasn't always easy to do without bread, pasta, cakes and sweets. It was still bearable for a certain time during a diet phase, but in the long run we wanted to make our diet a little more extensive again.
We didn't want to go back to our original diet though, because as Einstein once said, "insanity is: doing the same thing over and over again and expecting different results". So we looked for alternatives that would fit our diet.
Protein breads containing gluten have been around for quite some time and are now even offered by discount supermarkets. In conventional bread, gluten (also called wheat protein or wheat gluten) ensures that the dough is easy to process and can expand well during baking. The starch provides the necessary stability, as it gelatinises during baking. With most of the protein breads that are available, the starch is removed and the gluten content is increased. This results in a bread that is still quite stable, but usually has a somewhat rubbery texture. These high-gluten protein breads initially seem to be a more or less attractive alternative to conventional bread. However, since this means that even more gluten is consumed than before, the occurrence of gluten intolerance is promoted. So it wasn't an option for us in the long run. Gluten-free breads, on the other hand, were all very rich in starch – in some cases with a higher carbohydrate content than conventional bread.
The combination of low-carb AND gluten-free just didn't exist on the market. So we had to do it ourselves and develop a recipe.
This is where the challenge began. If you remove not only the starch, but also the gluten from a bread recipe with, for example, almond or linseed flour (instead of wheat flour), the structure breaks down completely at first and you get a "bread" that is certainly delicious, but more like a compact loaf cake than a bread in terms of structure and consistency. However, our goal was to make the crumb of our breads just as fluffy and flexible as with conventional bread – and with only natural ingredients. To do this, we had to start with the recipe development from scratch and systematically investigate the influence of the ingredients under consideration on baking properties, structure and consistency.
Our most important ingredients are the de-oiled flours of nuts, kernels and oilseeds, which are naturally low in carbohydrates, gluten-free and rich in protein. In addition, these flours are very rich in dietary fibre, minerals, vitamins and trace elements. We also use spray-dried egg-white powder from free-range eggs, cream of tartar baking powder and the natural preservative ascorbic acid (vitamin C).
After more than 500 baking attempts in our test kitchen, we had found the first "perfect" recipe, which we initially only used to bake delicious breads for our private consumption. The idea to produce baking mixes from them and sell them via an online shop came later. At the end of 2014 we sold the first baking mix – produced in a 20 sq. metre basement room with an 80-litre mixer and packed by hand. In the meantime, we have expanded our range to over 70 mixtures for 20 different types of bread, pizza, cakes, biscuits, muesli, pudding, desserts and much more.
amixon GmbH: It's exciting to listen to you. Is this your recipe for success and what distinguishes your company?
Dr Samir Charrak: Before Dr. Almond there was no comparable product on the market. Our products taste good AND they're healthy.
We focus on quality, taste and simple preparation, and we achieve this through high-quality ingredients and our recipes, which are optimised down to the tiniest detail. We use only selected raw materials from very carefully selected raw material suppliers and we ensure quality through internal and external analyses. Not every supplier meets our quality standards and we have often complained about pallet-loads of goods where they didn't meet our expectations. That also explains among other things the prices of our products – good raw materials don't come cheap. We simply don't make any compromises.
Those who want or have to eat a low-carb and gluten-free diet should not have to do without anything. Our products shouldn't be a compromise, but taste just as good or even better than the products that we want to replace with them. And the products should be quick and easy to prepare for everyone – even without special skills in the kitchen.
amixon GmbH: Your label and your presence on the Internet are your brand "Dr. Almond". Your homepage bears the URL www.lowcarb-glutenfrei.com. The name of your company is Charrak Nutrition GmbH. How is that all connected?
Dr Samir Charrak: Dr. Almond is our brand. On the one hand, we wanted to refer to one of the most important ingredients, the almond, and also to highlight the health benefits through the "doctor". And last but not least, we simply liked the name – it's short and memorable and is suitable for marketing purposes on both the German and the international market.
We took the conscious decision not to name our company "Dr. Almond GmbH", because we wanted to keep the option open, if necessary, to create other brands in the future. Who knows what other ideas we will come up with! Under the generic brand Dr. Almond, for example, we have already produced the chocolate brand "Choketo" and the nut spread brand "Nuketo".
Dr Samir Charrak: Our customer base consists of very different target groups: those who generally follow a low-carb, ketogenic or LCHF (low-carb-high-fat) diet, sportsmen/women, diabetics, people who want to lose weight, coeliac patients, people with autoimmune diseases and wheat intolerances, cancer patients and also a great many who simply want to eat consciously and naturally.
Dr Samir Charrak: A diet rich in dietary fibre and protein is not disadvantageous for anyone. Deficiency symptoms of a gluten-free diet can occur when the gluten-free substitutes contain less dietary fibre, protein and micronutrients than the products that they replace. This is actually the case with many gluten-free substitutes. With Dr. Almond, however, the opposite is true: our baking mixes are even significantly richer in dietary fibre and protein than bread made from cereals and contain a high proportion of minerals.
amixon GmbH: How do you differentiate your products from "traditional" foods? Are there analytical limit values? Are such test/measurement methods possibly controversial?
Dr Samir Charrak: There are legal limit values for the attribute "gluten-free" that can be measured according to generally accepted methods. (ELISA test, < 20 ppm).
There is currently no binding limit for the "low carb" attribute. Internally, we are guided by our own requirement that our products should contain at least 90 % less carbohydrates than the conventional product we want to replace. The use of raw materials that are naturally very low in carbohydrates makes this particularly easy for us. For instance, our breads have only 1 - 2 g of carbohydrates per 100 g. (For comparison, wheat bread contains about 45 – 50 g of carbohydrates)
amixon GmbH: That is impressive and leads me to the question: Which territories outside Germany do you already deliver to? ... do they also include the USA?
Dr Samir Charrak: Via our online shop we deliver our products EU-wide and to some non-EU countries such as Switzerland, the UK and Norway. The declaration obligations are more or less uniform throughout Europe, so that we hardly have to make any distinctions for different countries. The nutritional values are declared differently in the USA. As soon as we enter this market, we will need separate labels for this.
amixon GmbH: When one reads your homepage, one quickly realises that the raw materials you process are particularly high-quality and natural. How would you define your big challenges?
Dr Samir Charrak: There are no standards for nut and seed flours like there are for the different types for wheat flour. Every harvest, even every batch, can differ in its baking properties - sometimes more, sometimes less. We therefore have to adjust our recipes constantly.
In addition, we achieve our extensive range only through the use and targeted combination of numerous different nut and seed flours, of which most are allergens. Accordingly, cleaning after allergen changes is an extremely important item in our production.
For quality control it is also very important that not only random samples, but actually every single raw material bag is sieved and subjected to a visual inspection before production.
amixon GmbH: Is the procurement of pure, high-quality raw materials a problem? How do you solve that?
Dr Samir Charrak: Through a lot of patience and the willingness to pay a correspondingly high price for quality.
amixon GmbH: Yes, that makes sense. How do differences in quality manifest themselves when you look at your market competitors?
Dr Samir Charrak: Most low-carb products are full of unhealthy ingredients. Whether it be gluten, soya or harmful additives, the lists of ingredients are usually very long and contain barely pronounceable names.
Before Dr. Almond there was no comparable product on the market. However, it didn't take long for the first imitators to appear who tried to copy our products based on our ingredient lists.
However, a perfectly elaborated recipe cannot just be guessed from a list of ingredients, and the quality of the raw materials and the production quality are also important points, so that, at least according to the feedback of our customers, there is no one who can offer a comparable assortment so far.
We also have the great advantage that we produce completely ourselves. This means that not only do we have quality assurance in our own hands, we can also test small-batch new products without any problems and expand our range in the shortest possible time. Many competitors work "from the office" and leave the production to a contract manufacturer. Their flexibility is simply much lower.
amixon GmbH: Are there any trends regarding the future importance of low-carbohydrate, gluten-free ready mixes and foods?
Dr Samir Charrak: We expect the products to continue to gain in importance, as the problems described above will without doubt increase in the coming years.
amixon GmbH: How important is low-contamination or perhaps even contamination-free powder processing?
Dr Samir Charrak: Very important! As already mentioned, we achieve our extensive range only through the use of numerous different nut and seed flours, of which most are allergens. Accordingly, easy and complete cleaning after an allergen change is extremely important and an essential component in our production.
amixon GmbH: In this context, it is particularly useful that your new production plant is designed in such a way that it empties itself almost completely and allows convenient access for inspection purposes. Another important solution is without doubt the intelligently timed production sequence. Similar recipes are processed one after the other. Minimal carry-overs are tolerated because they are within the specification. Wet cleaning only has to take place if allergenic goods were involved or if religion-related cleaning regulations require it. Is that correct?
Dr Samir Charrak: That's absolutely right. Due to frequent product or allergen changes, our systems must be capable of being emptied as completely as possible and conveniently cleaned.
Even though we already work with intelligent production sequences, the large number of products (currently over 70 different mixtures) still means that we have to carry out complete cleaning after a maximum of 4-5 different products.
Wet cleaning is also required after the production of our chocolate powders in order to completely remove the fat that they contain.
amixon GmbH: Raw material and finished product logistics may be a particularly important challenge. In-house solution versus third-party logistics service providers – is this perhaps an important component of customer loyalty and value creation?
Dr Samir Charrak: We outsourced the logistics of our finished products for the online shop right at the beginning and have never regretted this decision. We have never regarded packing and shipping parcels as one of our core competencies and are still pleased to have found a very reliable partner for this.
All finished products are in stock at our logistics service provider. Orders from our online shop are transmitted electronically to the shipping team and usually shipped just a few hours later by parcel service. We still look after our online shop customers ourselves and this should remain the case in the future. For this reason, we don't want to distribute through wholesalers or retailers. We don't want to give up the proximity to our customers.
amixon GmbH: What is the economic and future significance of low-carbohydrate, gluten-free ready mixes?
Dr Samir Charrak: We assume that the market will continue to grow strongly. In our previous production facility in Bobenheim-Roxheim, we were unable to meet demand and had to significantly reduce our marketing activities. So there is still a lot of room for improvement.
amixon GmbH: When preparing muesli or dough conditioners, almost only physical processes are used: separation based on particle size differences, separation based on density differences, cleaning, mechanical crushing, mixing, pelletising, impregnation if necessary … Is dry processing preferred because of the better shelf life? Are fermentation processes ruled out due to excessive dwell times and costs?
Dr Samir Charrak: Exactly, dry processing has the great advantage that we can assign a long best-before date and produce better to stock. In addition, the end user can store the product flexibly and then freshly prepare it at any time. Since our products are very rich in protein and dietary fibre, they also bind a lot of moisture. Fresh products are therefore problematic in terms of shelf life.
amixon GmbH: Do your products also contain starch derivatives or cellulose derivatives?
Dr Samir Charrak: We don't use any starch derivatives. We use various vegetable fibres with bamboo fibre and citrus fibre, which have a high cellulose content.
amixon GmbH: Which quality features are important for the consumer? What do you focus on here?
Dr Samir Charrak: That differs a lot. First and foremost, of course, the taste and the simple preparation, but we also notice clearly that the high-quality ingredients are becoming increasingly important for the consumer.
amixon GmbH: How important are customer analytics and advice?
Dr Samir Charrak: We maintain close contact with our customers via social media and consider this to be a particularly important cornerstone of our success so far.
For example, we maintain two large Facebook groups with a total of 18,000 members, where customers can post recipes and pictures of the products, ask questions and give us their feedback on existing or desired new products. The proximity to the customer is both helpful and motivating for us.
amixon GmbH: To what extent is the production of gluten-free nutrients used for instant meals?
Dr Samir Charrak: We already offer instant meals, such as a dessert powder that can be stirred in cold milk. Further products are planned. Low-carb and gluten-free are in principle interesting for every product type.
amixon GmbH: Gluten is a residue from wheat starch production that is becoming increasingly interesting for manufacturers of meat substitutes. Can the gluten's adhesive protein be changed in such a way that coeliacs can still consume it?
Dr Samir Charrak: In principle, that ought to be possible through complete fermentation. However, that would certainly also change the technical properties, so that the end product would then probably be unsuitable for the purpose. In any case, it wouldn't be an option for us.
amixon GmbH: What demands do manufacturers of gluten-free nutrients place on the packaging of their goods?
Dr Samir Charrak: Our packaging must have a very high oxygen barrier to prevent the nut flours that it contains from becoming rancid.
amixon GmbH: Is it important that the final mixing process is gentle and with minimal energy input? With the aim of preserving the granulometry of the goods and keeping the product temperature as low as possible?
Dr Samir Charrak: Yes – our nut and seed flours should not be exposed to higher temperatures during the mixing process, as this could accelerate the oxidation of the oils they contain and they could become rancid more quickly. In our muesli and seed bread mixes it is also important, for example, that no pumpkin seeds or shredded coconut are broken, so the mixing should be very gentle.
amixon GmbH: Dr Charrak, I would like to thank you in the name of amixon® for your time and your detailed explanations. In the name of the amixon® management board we would like to assure you that we will continue to advise and accompany you constructively in future whenever you ask us to.
Dr Samir Charrak: Thank you, my pleasure!
© Copyright by amixon GmbH