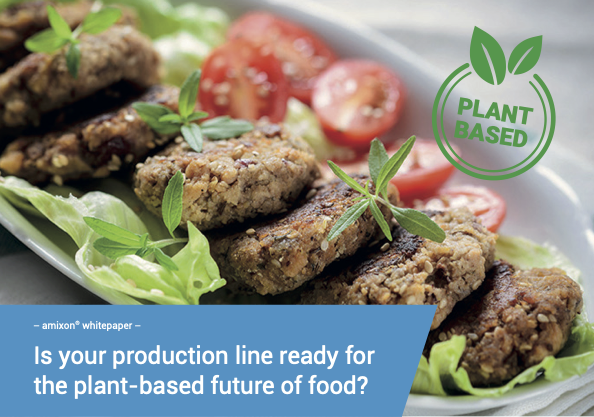 Meeting the needs of the growing plant-based food industry
Meatless meat and other vegan products are booming. Sizeable investments in new product development and processing equipment are needed.
Vegan and plant-based alternatives to animal proteins now occupy more shelf-space in grocery stores than ever before. In the UK, nearly one in four new food products launched in 2019 were labelled vegan. Even some of the world's largest fast food chains have adopted vegan offerings as permanent fixtures on their menus.
Experiencing such tremendous growth, the plant-based food sector is posed to transform the way the world eats. But manufacturers of vegan food products have a number of challenges to overcome before they can operate at a scale like that of industrialized animal agriculture.
Processing plants to taste like meat
The fastest growing demographic of consumers who are interested in plant-based products are not vegans or vegetarians, but flexitarians. Those looking to reduce but not eliminate animal products from their diet have high expectations when they shop for protein.
Manufacturing plant-based products that look, taste, and cook like meat is challenging. Base recipes can contain dozens of ingredients, each of which needs to be perfectly dosed and homogenized. Excellent processing equipment is necessary to achieve a high-quality end product.
Sourcing diverse plant-based proteins
To compete with the low price points of industrial agriculture, plant-based food producers need to be able to source a variety of different protein sources. A huge diversity of ingredients exists, but investments are needed in order to establish a reliable supply chain. Flexible processing equipment is needed to be able to develop recipes using many different plant-based ingredients.
Changing regulations for vegan claims
As of 2020, product claims such as "vegan" or "plant-based" are not regulated in any major market. But this is soon to change.
With regulators set to crack down on questions of cross-contamination from animal-derived products, manufacturers of vegan foods need to be sure they are in a position ensure proper hygiene and substantiate their claims.
Want to learn more?
In the newest whitepaper from amixon®, you'll learn about the consumer trends influencing the global growth of the plant-based food industry as well as the challenges facing manufacturers in this exciting new industry.
High-performance mixing equipment plays a central role in helping manufacturers develop new product formulations, ensure hygiene, and scale their processes to peak efficiency and profitability.
© Copyright by amixon GmbH