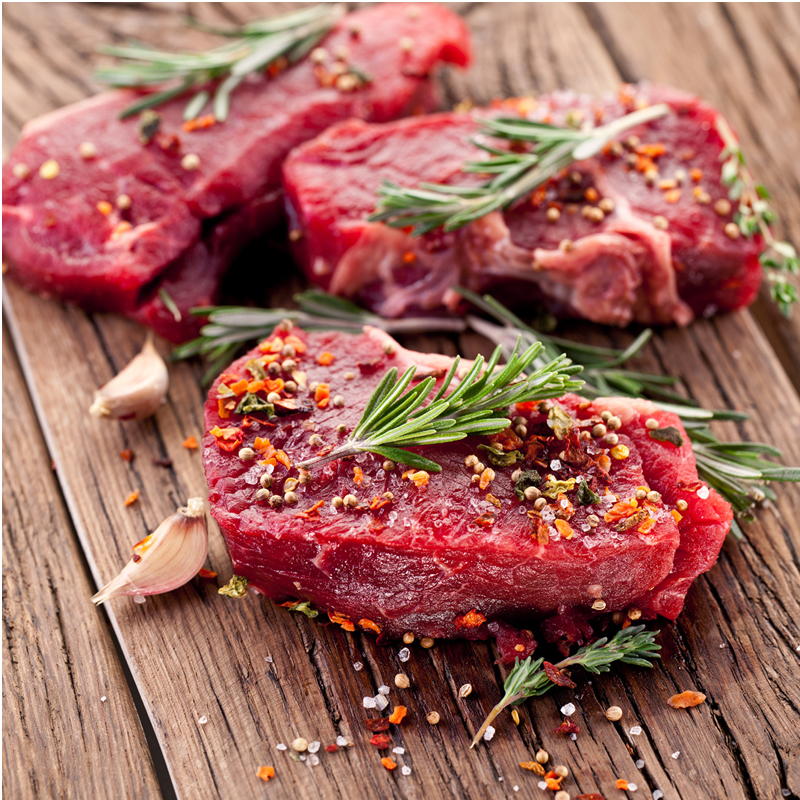 The interview: 16 questions and answers on meat processing and powder additives
The questions were addressed to a master butcher from Lower Saxony, Germany, by Ms. Lisa-Marie Siebert, Marketing amixon GmbH.
Question 1: Your company was founded in 1883. We would like to take this opportunity to congratulate you on the fact that your company has been in existence for almost 140 years. You explained that the classic butcher store with a point of sale was expanded 10 years ago with a catering service for your customers. What makes your company stand out?
Response: Our company philosophy is: "Combine tradition with innovation". In part, we still produce according to recipes with roots dating back to the founding period of 1883. As a highly qualified master butcher and meat sommelier, I learned how to make sausages from scratch. I try to combine many years of experience and profound knowledge of the technological background. Spices and additives refine meat by physical-chemical means in harmony with ripening temperature and humidity. One of my passions is the production of Bratwurst specialties in the summer. On a gourmet study trip, I met a South African butcher who makes a wide variety of sausages himself. He gave me one of his favorite recipes for making a so-called "Boerewors", which is a must at any BBQ in South Africa. Later, I successfully recreated the sausage creation at home. My customers enjoy the taste, but none of them knows that the spices used are normally used in Christmas gingerbread. For another sausage specialty, for example, I use an original marjoram from Thuringia, which makes my sausages taste wonderfully unique. A special highlight is my wonderfully matured meat from Irish Angus beef. I purchase this product from a fellow farmer who raises a free-range herd of Angus cattle.
Question 3: Spices, spice blends, spice preparations and, if necessary, marinades are supplied by spice manufacturers. Do you receive other powdery substances from there?
Response: Yes, we purchase, for example, dry glucose syrup for the production of smoked sausage and grilled sausage, starter cultures for smoked sausage, stabilizers for pH value control and aspic powder for the production of brawn. Furthermore, in small quantities: Phosphates for the production of scalded sausage to maintain the necessary phosphate content, which is essential for the water binding capacity. - The phosphate naturally present in the animal is degraded very quickly after slaughter, so an additive is unavoidable. I also purchase sauce powders from the spice factories for making ready meals, marinades for seasoning and finishing short roast items and stir-fry dishes.
Question 4 In future, will there still be a need to use powder additives to produce high-quality sausage?
Response: Yes for sure. Even 50 years ago there were additives such as nitrite, sodium glutamate, phosphate, ascorbic acid and others. Their quantitative use was already regulated by law at that time. At that time, natural spices such as pepper, cumin, allspice, paprika, ginger and cardamom were used. Additives were rather expensive at that time. It was used sparingly - in accordance with technological requirements. Today, complete mixtures, i.e. spice preparations that already contain small quantities of these additives finely distributed in addition to the natural spices, are mainly used in industry as well as in the craft sector. This will also be necessary in the future for a perfect end product. Are the powdered spice preparations in the correct fine grinding. Provided that the components have been mixed accurately, the quantities being added can be reduced.
The variety of additives has increased over time because more and more is expected from the final products. Meat products should
have a good color,
be freeze-stable,
be microwaveable and
have a long shelf life.
This is reflected in the ingredient lists, as this list must comply with the legal requirements of the Food Information Regulation. Labels for additives are getting longer and longer. What is true for the spice preparation is equally true for marinade products, which have been on the market for more than 30 years. All spice factories strive to use fewer and healthier additives. In this respect, spice factories are pursuing the development of declaration-free products. In the course of these developments, the best possible efforts are also being made to substitute allergens.
I am always pleased when I am allowed to process natural, local raw materials with freshly ground spices, although for some types of sausage it is not possible without a minimum amount of basic additives. In my opinion, this is also justifiable; after all, the consumer does not question the baking powder for making cakes.
Question 10: Which quality characteristics will become increasingly important for consumers? Can trends in spice blends and spice preparations be derived from this?
Response: Sustainability is currently the topic that everybody is talking about. Where do the raw materials come from, under what conditions are they grown and harvested? Organic cultivation is also an issue. Undoubtedly, the attributes remain important:
Purity,
Taste and aroma and
Yield.
Sterilization of spices, tea, cocoa, curry mixtures and cereal derivatives in the amixon® vacuum dryer
Spice blends and preparations remain indispensable in the production of ready meals, instant menus, as well as in school kitchens, factory canteens, restaurant kitchens and also for the end consumer. Very popular and certainly in vogue are spice blends for barbecue. Startups are outdoing each other with great special spice blends in stylish packaging for trendy dishes such as pulled pork. Classic mono spices seem to be less popular.
Question 11: Isn't it becoming increasingly important to avoid preservatives?
Response: Maybe you have to ask the question a little differently and say: "Who cares about avoiding preservatives?" Consumers expect national and international products at any time of year, high quality and visually appealing. Is the consumer willing to give up this diversity? Transport distances are becoming longer, therefore the products have to be made more durable. This is not possible without preservatives. Our original preservatives such as sugar, vinegar, salt are not even perceived as preservatives by the consumer.
Question 12: Are there any raw materials that should not be used in the future?
Response: I don't see the use of additives as problematic if done responsibly and ethically. The motto is: As much as necessary and as little as possible. Ultimately, the additives have a technological background. If there are ways to avoid additives, then I am all for it.
All-rounder for small and large batches
Question 13: From your point of view, are there any trends with regard to sauces, dips, ketchups or marinades?
Response: Smart recipes for making Asian specialties are in vogue. The consumer does not have to buy a lot of individual ingredients, which they then have in the cabinet, opened. I also see an unbroken demand for BBQ sauces and high-quality ketchup varieties, such as ketchup with truffles.
The trend is clear. Certain components should disappear, such as palm oils, allergens and additives requiring declaration.
Question 14: What do you think will change in the spice market?
Response: Spices are becoming more expensive because demand is increasing and because climatic conditions are changing worldwide. Energy to maintain production standards is becoming more expensive. Sustainable production conditions and fair trade also require price adjustments.
Question 15: Are there any suggestions or requests on your part that you would like to address to your customers or to politicians?
Response: Many people are unable to identify the spices because they no longer know the plants. However, basic sensory knowledge is just as much a part of general knowledge as knowledge about a healthy lifestyle and diet. I would be pleased if this knowledge was already taught in kindergartens and schools.
While political statements are out of my line, a uniform 7% VAT rate for spices and spice blends appears reasonable to me.
Question 16: I'm getting a little off topic with my last question. However, I would still like to address it to you. Success stories about "tissue engineering" are sometimes reported in the media. Muscu-lar cell tissue with embedded fat structures is built up in bioreactors. So-called cultured meat is cre-ated completely decoupled from agriculture and the farm animal.
Response: Yes that is impressive. Obviously, the idea of producing meat in the lab works. The idea behind this is that agricultural land and water are saved and that CO2 emissions are reduced. However, to the best of my knowledge, this technology is expensive and not ready for the market. A "culture meat" produced in such a way has an irritating effect on me, almost like a culture shock.
Thank you for your interesting submissions. They helped me a lot to get a better idea of how future product developments and offerings of the spice factories could develop.
amixon® manufactures process equipment for the food industry. Our mixers, sterile reactors and granulators are to be adapted ever better to future requirements. With this in mind, we try to evaluate and implement your thoughts.
Once again, thank you very much. We wish you continued success and pleasure in maintaining and implementing your motto "Combine tradition with innovation".
© Copyright by amixon GmbH